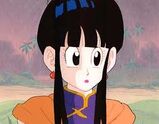 Meet chichi is a clip from the movie The mushroom fighters:The first fifthteen episodes,it was aired on march14,2013.
King windbag becomes tired of interviewing the heroes so she deside to interview chichi instead.
Chararcters
Edit
Chichi[Main]
Kingwindbag[Narrtor/Main]
The clip begins with kingwindbag wonding who to interview next,later he finds chichi walking,he runs to her and talks about her,chichi notices him and told him it's rude to interview some without asking,He tells her what happen with him and princess peach,Later chichi gets out her sword and is about to hit him with it,Ending the clip.
Transcript
Edit
Chichi is the only one he didn't asked to interview.
Chichi could have slice he's head off.