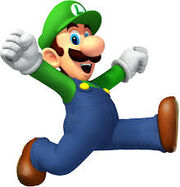 Meet luigi is an Clip of interviewing luigi in the movies in america On the tv show on Canada,Aired on canada Janury 13,2013,And about to Come on tvon Janury 17,2013.
Chararcters
Edit
Luigi[Main]
King wingbag[Narrator and brief chararcter]
The clip starts with King wingbag talking about Luigi in the white room,Then luigi Notice him and mention that He said that there would be candy there,Wingbag Leads luigi near a cannon where he pushes luigi in the cannon sending him Somewhere.
Transcript
Edit
Click 'Here
Too be added.
When windbag Pushes Luigi into the cannon it was smilar to when luigi pushes mario into the cannon in the first ever episode The begin.
This clip is the first meet a main chararcter clip.