The Mushroom Fighters are a group of 3 heroes,They appear in every episode of the series,and they are the main chararcters.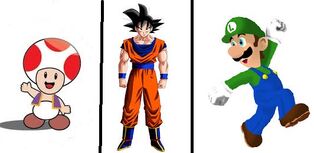 Out of all the members Luigi is the 2nd tallest,2nd strongest,2nd fastest,and the 2nd smartest.
Goku is the strongest member,least smartest,the fastest,and the tallest.
Toad is the weakest,shortest,slowest,but the smartest member.
When invading a castle,toad weakning the defense,luigi takes out elites,well goku takes out everything.
It is possible that mario could be the next mushroom fighter.